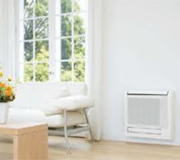 We can supply, install, and maintain all types of residential and commercial heating and cooling systems.
Residential Heating & Cooling
We can plan, supply & install the complete system for conservatories, bedroom and other required areas.
Commercial Air Conditioning
Offices, leisure establishments, public areas, communication, computer and server room. Packaged, split systems, multi-split systems, wall, floor and ceiling mounted indoor units can all be supplied, installed and cared for by Simon and his team.
Energy-Saving Heating from renewable sources
Huge savings can be made by installing a energy saving heat pump system for heating purposes. Using the air as a renewable energy sources in this way will improve your carbon footprint and save you money at the same time.